EVONETIX LTD ('Evonetix'), the synthetic biology company bringing semiconductor technology to DNA synthesis, has been shortlisted for the MSD Innovation Award at the Scrip Awards 2022 in recognition of the Company's novel gene synthesis technology and its potential to facilitate the rapidly growing field of synthetic biology.
Evonetix's novel semiconductor-based synthesis chip uses precise temperature control to manage the DNA synthesis cycle at thousands of individually addressable sites across the surface of the chip. The patented method for DNA synthesis enables highly parallel synthesis and the ability to remove errors during the assembly of gene sequences.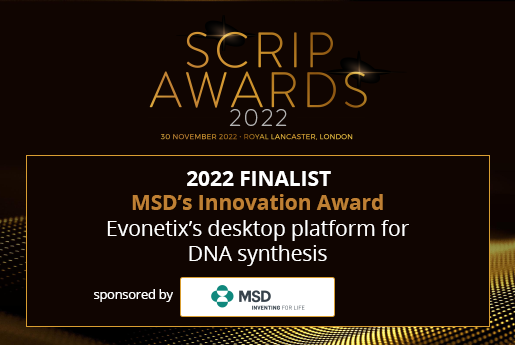 The Scrip Awards bring together over 400 industry leaders to celebrate and recognize the very best innovations and achievements in global biopharma across 15 categories, including Biotech Company of the Year, Best New Drug, Community Partnership of the Year, Clinical Advance of the Year, Best Contract Research Organization and the Award for Innovation.
Matt Hayes, Chief Technology Officer and Founder of Evonetix said "It is a privilege and pleasure to be nominated for these prestigious awards. Whatever the outcome, we look forward to seeing some of the very best in research at the award ceremony. Our nomination is testament to the hard work of our talented teams and the vision of gene synthesis using semiconductor technology"
The award ceremony takes place in London on 30th November.
For more information about Evonetix, please visit: www.evonetix.com.